Air Jet Cleaning Machine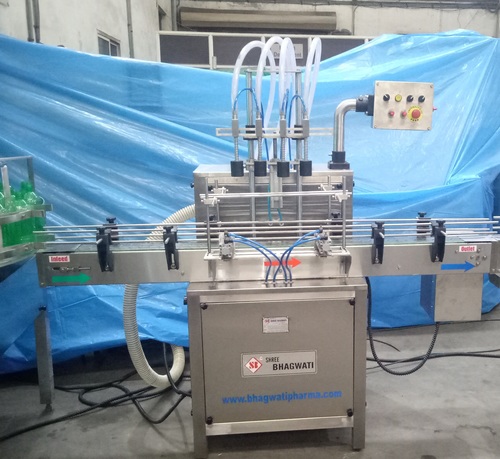 Air Jet Cleaning Machine
Price And Quantity
300000.00 - 1000000.00 INR
Product Description
Application & Process :
Automatic Air Jet Cleaning Machine inbuilt Unscramble is a compact unit used for cleaning of Dry Syrup pat bottles before filling.

This machine works on a principle of back pressure of Bottle which will be fed by the unscramble to reach separator assembly, which transfer the Bottle on conveyor belt and pushes bottle to the cleaning section one after another. Machine consists of two inverters and one cleaning section. Bottle will be pushed by rotating separator towards the in feed inverter, which makes the Bottle in the wrong direction and push it to cleaning section through back pressure of other Bottle. Cleaning section is equipped with continuous vacuum system. Bottle reaches to the cleaning section, a pair of nozzle starts to flush the air inside the neck of the Bottle and simultaneously vacuum will suck the particle, disturbed by the air. Then Bottle passes to another inverter, where changes the direction to the right direction, further Bottle moves either to the filling machine.
Salient Features :
Design as per cGMP - Current Good Manufacturing Practices compliance
Made from AISI 304 and diverter assembly EDPE.
Positive air pressure and vacuum cleaning.
Easy operation for setting, change over& cleaning.
Stationary S.S. nozzles.
Automatic loading and unloading of container.
Individual control for air pressure and vacuum cleaning.
S.S pressure meter
High capacity blower suck the minute particle from bottle, ensure good cleaning of bottles.
Variable speed with higher output.
Single gear motor synchronizes conveyor, star wheels and sealing head..
Acrylic Cabinet with Aluminum Structure for machine.
Can be provided In feed Turn Table.
Technical Specification :
Model

SBAJC-120

Output/Hour*

2400 to 7200

Direction of Movement

Left to right

Power** Consumption

Main Motor

0.5 HP / 415 Volts / 50Hz.

Blower Motors

0.5 HP x 2 = 2 HP / 415 Volts / 50Hz

Cleaning Cycle

Positive air pressure and vacuum cleaning

Working Height**

800 to 850 mm adjustable.