Mixing Vessel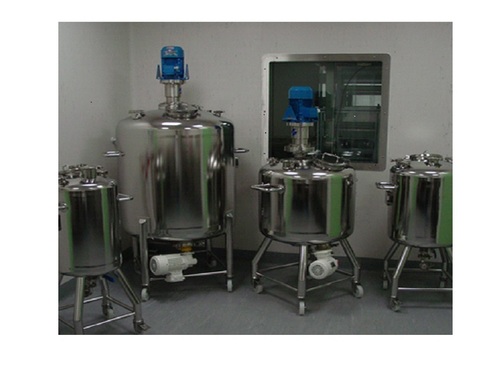 Mixing Vessel
Product Description
Bhagwati Pharma is one of the most experienced storage vessel fabricator for biopharmaceutical and pharmaceutical industries in India. Our storage containers accurately maintain the temperature of the material inside it. Our skilled professionals are dedicated for building and finishing stainless steel mixing tank. We have wide range of SS containers in both Jacket and Plain form. Our jacket stainless steel mixer maintains the heating and cooling of material in it.There are various methods for mixing with the product be available for different industries. Bhagwati Pharma offers with jacketed mixing vessel tank that also helps to maintain the material used in the industry. In simple terms it can be explained as this type of mixing vessel tank is just like a thermos. One layer in the jacketed tank is been used to regulate the temperature of the contents within the mixing vessel tank. Jacketed Stainless Steel Mixing Tank is been designed in a way such that it can keep the content hot or cold through its jacket enclosure. This type of mixing vessel tank is generally been used in industries like bath products, food industries use this in order to temper chocolate and sugary confections. Bhagwati Pharma offers you with Jacketed as well as Stainless Steel Mixing Tank with different ranges. Following shows some of the applications with the mixing vessel tank.
Bhagwati Pharma provides high quality stainless steel tank with accurate result at very affordable price.


Chemical Industry:
Cleaning agents
Polishing agents
Lubricants
Colors
Lacquers
Anti-corrosion products>
Wax emulsions
Silicone emulsions
TiO2-suspensions
Colloidal suspensions
Impregnating agents
Pesticides
Fungicides
Pharmaceuticals:
Ointments
Gels
Cough syrups
Infusion solutions
Suppository masses
Coatings
Lotions (W/O or O/W)
Paraffin emulsions
Lipid emulsions
Disintegration of
vegetable substances
Antiseptics
Serums
Vaccines
1st stage
Special pumping rotor for turbulence in the vessel
high circulation capacity for viscosities up to 100.000 cp
high pressure for CIP-cleaning gentle circulation
Our wide range of mixing tanks and manufactuirng plant
Liquid Syrup Manufacturing Plant
Automatic Liquid Syrup Manufacturing plant
Ointment Manufacturing Plant
Ointment Cream Manufacturing Plant
Automatic Ointment Manufacturing Plant
Jacketed Mixing Tank
Stainless Steel Liquid Mixing Tank
Automatic Syrup Manufacturing Plant
Liquid Oral Manufacturing Plant
Automatic Liquid oral Manufacturing Plant
Liquid Oral Plant
Liquid Manufacturing Plants
Liquid Processing Plant
Liquid Processing Plant For Pharmaceutical Industry
Pharmaceutical Liquid Processing Unit
Liquid Sugar Manufacturing Plant
Sugar Syrup Manufacturing Plant
Liquid Oral Processing Unit
Processing Unit
Cosmetic Mixing Vessel
Jacketed Mixing Vessel
SS Vessel
Jacketed Reactor
Jacketed Vessel
Perfume Manufacturing Vessel
Mixing Vessel
Cosmetic Mixing Vessel for Pharmaceutical Industry
Stainless Steel Vessel
Automatic Lotion Manufacturing Plant
Automatic Ointment cream manufacturing Plant
Cosmetic Cream Manufacturing Plant
Lotion Manufacturing Plant
Pharmaceuticals Ointment Manufacturing Plant
Oral Liquid Manufacturing Plant
Automatic Oral Liquids Manufacturing Plant
Sugar Melting Vessel
Sugar Melting Tank
Sugar Melting Tank for Pharmaceutical Industry
Cosmetic Manufacturing Plant
Cosmetic Manufacturing Plant For Pharmaceuticals Industry
Ointment Mixers For Pharmaceutical Industry
Ointment Mixer
Ointment Cream Mixer
Ointment Manufacturing Vessel
Ointment Manufacturing Tank
Ointment Making Plant
Automatic Ointment Making Plant
Jacketed Tank
Stainless Steel Storage Tank
Cream Manufacturing Plant
Cream Manufacturing Vessel
Automatic Liquid Oral Plant
Automatic Liquid Oral Processing Plant
Automatic Liquid Oral Suspension Manufacturing Plant
Automatic Liquid Syrup Processing Plant
Automatic Liquid Syrup Production Line
Automatic Oral Liquid Syrup Manufacturing Plant
Automatic Suspension Syrup Manufacturing Plant
GMP Liquid Syrup Manufacturing Plant
Liquid Oral Processing Plant
Liquid Syrup Processing Plant
Liquid Syrup Production Line
Suspension Syrup Manufacturing Plant
Suspension Syrup Production Plant
Automatic Cosmetic Cream Manufacturing Plant
Automatic Cream Manufacturing Plant
Automatic Lotion Manufacturing Plant
2nd stage
Dispersing with an optimum generator for finest droplet sizes for emulsions with long term stability suction of powders or liquids directly into the dispersing zone without additional vacuum pump.
Excellent and constant mixing of the vessel content is guaranteed by a special spiral agitator.
Optimum mixing in vertical and horizontal direction.reversible direction of rotation flexible scrapers made of Teflon, free of dead spots can be heated or cooled, thus caring for short heating/cooling times.
The procedure of the mixing process is controlled by means of a modern electric control with touch screen monitor, which can be extended on demand