V Blender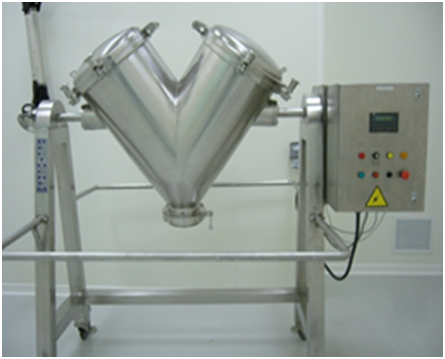 V Blender
Price And Quantity
2.00 - 20.00 INR

2,00,000 TO 20,00,000 INR
Product Specifications
As per customer requirement Watt (w)

10-10000 Kiloliter/day
Product Description
V Blender
There are three popular shapes of tumble blenders: the V-Blender, the double cone, and the slant cone. Tumble blenders rely upon the action of gravity to cause the powder to cascade within a rotating vessel. The V-Blender (also known as a twin shell blender) is one of the most commonly used tumbling blenders. The blending performance of this type of blender has shadowed many of the members in the blender family. They offer both short blending times and efficient blending.

The V-Blender is made of two hollow cylindrical shells joined at an angle of 75 to 90. The blender container is mounted on trunnions to allow it to tumble. As the V-blender tumbles, the material continuously splits and recombines, with the mixing occurring as the material free-falls randomly inside the vessel. The repetitive converging and diverging motion of material combined with increased frictional contact between the material and the vessel's long, straight sides result in gentle yet homogenous blending. Figure 1 shows a V-Blender.

The primary mechanism of blending in a V-Blender is diffusion. Diffusion blending is characterized by small scale random motion of solid particles. Blender movements increase the mobility of the individual particles and thus promote diffusive blending. Diffusion blending occurs where the particles are distributed over a freshly developed interface. In the absence of segregating effects, the diffusive blending will in time lead to a high degree of homogeneity. V-Blenders are therefore preferred when precise blend formulations are required. They are also well suited for applications where some ingredients may be as low as five percent of the total blend size. Normal blend times are typically in the range of 5 to 15 minutes depending on the properties of material to be blended.




Trade Information
Yes

Contact us for information regarding our sample policy
Wooden Packing Only

All India